|

|

LEGAL - Private Litigation
---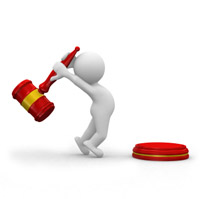 We will help you find the best possible solution in your discrepancies with clients or the administration. We handle private as well as corporate litigation.
Corporate Civil & Administrative
Corporate criminal
Defence in criminal procedures and criminal remedies: fraud; misappropriations; misrepresentations; concealment of assets; corporate crimes and crimes against industrial or intellectual property; crimes against the Inland Revenue; bankruptcy through criminal negligence and, in general, company-related crimes.